Published online: July 2021
Synthesis by: Dr Stephanie Borrelle, BirdLife International (stephanie.borrelle @ birdlife.org)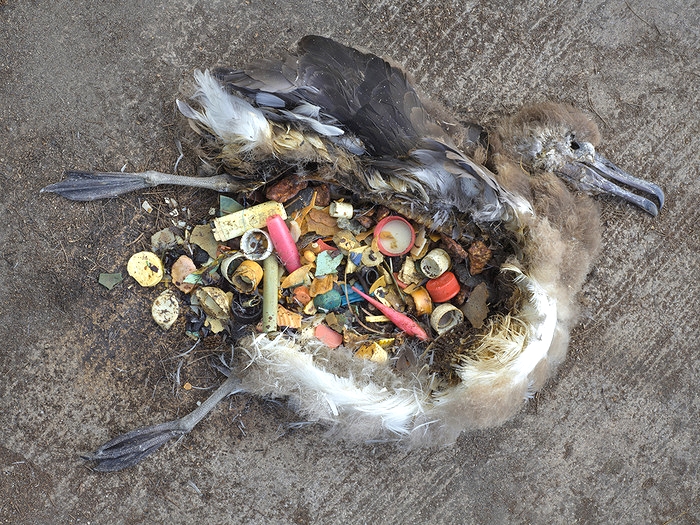 Dead albatross chick on Midway Island, Hawai'i (Photo credit: Chris Jordan)
This year's Plastic Free July will mark 10 years of a global movement to raise awareness about the problems that plastic pollution has on our marine and terrestrial ecosystems, biodiversity and communities. It was seabirds that were some of the first messengers of problems of plastic in our oceans.
In 1958, researchers in Aotearoa (the seabird capital of the world) found plastic pellets (newly produced plastic which is moulded into products) in prions that washed up on the beaches of the west coast. Since then, plastic ingestion by seabirds has been documented with increasing frequency, from the poles, to the tropics, and oceans in-between. Seabirds are particularly vulnerable to ingesting plastic because of how they find and consume prey. They can find food – fish, salps, crustaceans, squid – from great distances because of their highly developed sense of smell and eyesight. Recent research showed black-footed albatross make flight directional changes towards plastic debris from an average of 5km distance. Plastics, when floating on or near the surface of the oceans, may look like seabird prey and even smell similar due to the microscopic marine organisms that attach themselves to it. The sharp edges of plastic debris cause lesions and tears to the internal organs of seabirds and a stomach full of plastic leaves no room for food and water leading to dehydration and starvation.
The problems of plastic in the marine system are well researched and documented. News stories about turtles with straws in their noses and whales with kilograms of plastic inside their stomachs are almost a weekly occurrence. Scientific research is revealing the human health costs of plastics not only from food packaging, but through the contamination of seafood with chemicals associated with plastic pollution, flame retardants, PCBs, and heavy metals, to name a few. Such contaminants are known to cause sterility, endocrine disruption, cancer, and impair biological development. Plastic also affects the economy, for instance, through tourism impacts and entanglements in boat propellers, clogging drains and general clean-up costs. Indeed, plastic has impacted our planet so much it has been called a planetary boundary threat.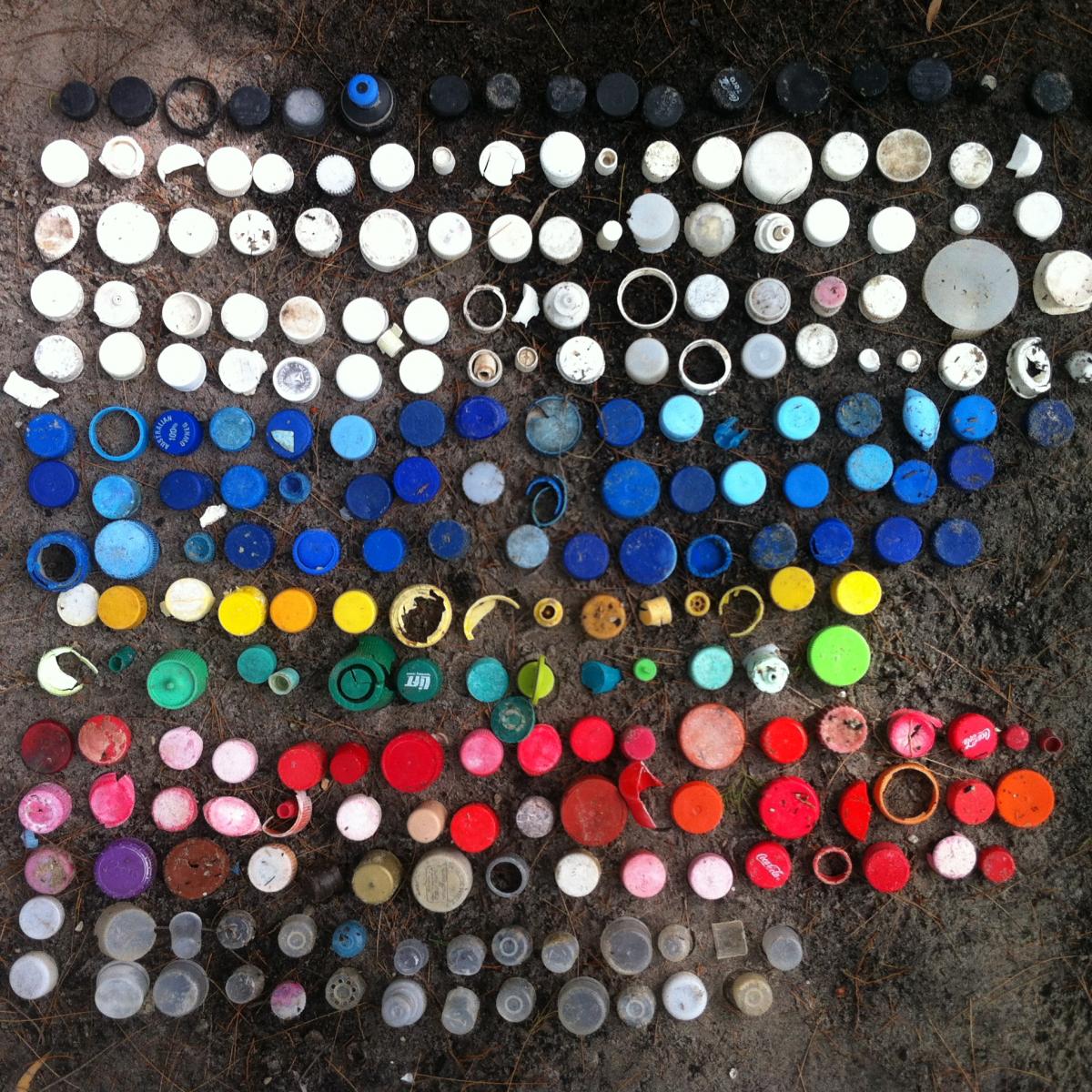 Plastic bottle caps collected from a two-hour beach clean-up north of Brisbane, Australia, 2017 (Photo credit: Stephanie Borrelle)
Unfortunately, the problems of plastic are unlikely to go away anytime soon. Projected pollution rates are expected to increase from the often quoted 8 million metric tonnes from 2010, to upwards of 53 million metric tonnes every year by 2030 – and that is only if the global community takes ambitious action to reduce plastic entering the waste stream. This requires immense political will, and global coordination, which is why countries across the world are calling for an international agreement on plastics. Aotearoa has just recently stated support for such an agreement that will be proposed at the next United Nations Environment Assembly in 2022.
While the tsunami of plastic entering our oceans continues for now, there is cause for optimism. Plastic-free campaigners, and the community at-large in Aotearoa have a lot to celebrate during Plastic Free July this year. The Labour-led government has announced sweeping policy to ban problematic 'single-use' plastics including some of the hardest ones to recycle, like PVC, polystyrene and oxy-degradable plastics. This is impressive progress from just a few years ago when the campaign to ban plastic bags in Aotearoa was struggling to get traction. The momentum of Plastic Free July is testament to the power of science-informed policy and community action to address global scale challenges.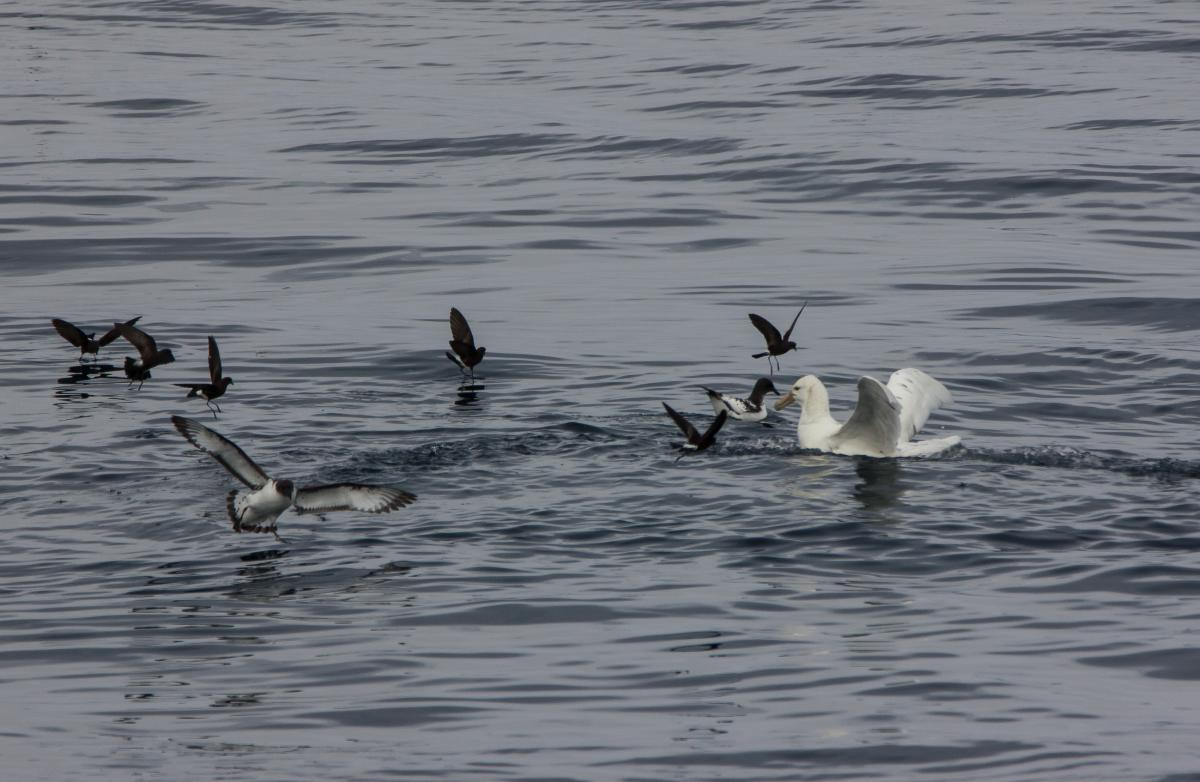 Southern giant petrel (white morph), Wilson's storm petrels, and Pintado petrels (cape petrels) feeding on the surface of the ocean, Antarctic Peninsula (Photo credit: Stephanie Borrelle)
References
Borrelle, S. B., Ringma, J., Law, K. L., Monnahan, C. C., Lebreton, L., McGivern, A., Murphy, E., Jambeck, J., Leonard, G. H., Hilleary, M. A., Eriksen, M., Possingham, H. P., Frond, H. D., Gerber, L. R., Polidoro, B., Tahir, A., Bernard, M., Mallos, N., Barnes, M., & Rochman, C. M. 2020. Predicted growth in plastic waste exceeds efforts to mitigate plastic pollution. Science, 369(6510), 1515–1518.
Farrelly, T. A., Borrelle, S. B., & Fuller, S. 2021. The Strengths and Weaknesses of Pacific Islands Plastic Pollution Policy Frameworks. Sustainability, 13(3), 1252.
Harper, P.C & Fowler, J.A. 1987. Plastic pellets in New Zealand storm-killed prions (Pachyptila spp.) 1958-1977. Notornis, 34(1), 65–70.
New Zealand Government: 27 June 2021 https://www.beehive.govt.nz/release/government-takes-action-problem-plas...
Nishizawa, B., Thiebot, J.-B., Sato, F., Tomita, N., Yoda, K., Yamashita, R., Takada, H., & Watanuki, Y. 2021. Mapping marine debris encountered by albatrosses tracked over oceanic waters. Scientific Reports, 11(1), 10944.
Plastic Free July: https://www.plasticfreejuly.org/
Provencher, J. F., Bond, A. L., Avery-Gomm, S., Borrelle, S. B., Rebolledo, E. L. B., Hammer, S., Kühn, S., Lavers, J. L., Mallory, M. L., Trevail, A., & Franeker, J. A. van. 2017. Quantifying ingested debris in marine megafauna: A review and recommendations for standardization. Analytical Methods, 9(9), 1454–1469.
Villarrubia-Gómez, P., Cornell, S. E., & Fabres, J. 2018. Marine plastic pollution as a planetary boundary threat – The drifting piece in the sustainability puzzle. Marine Policy, 96, 213–220.