Upcoming training courses: occupancy modelling and mark-recapture modelling
Proteus will be running 4.5-day introductory training courses in Australia on occupancy modelling, and mark-recapture modelling in July 2019. Both courses will be instructed by Darryl MacKenzie, one of our internationally renowned biometricians, particularly for his work on the development and application of species occurrence models (i.e., occupancy models). Each course is AUD$1000, with an early bird discount of $100 available.
For more information, and to register, go to https://www.proteus.co.nz/courses
Occupancy modelling - beginner/intermediate course
15 July - 19 July 2019
Mooloolaba Surf Club, Sunshine Coast, Australia
The presence or absence of a species across a set of landscape units is a fundamental concept widely used in ecology. An important sampling issue, however, is that a species may not always be detected when present at a landscape unit. Unaccounted for, "false absences" can lead to misleading inferences about patterns and dynamics of species occurrence, and the factors that influence them, even with moderate levels of imperfect detection.
This 4.5-day introductory workshop will cover methods that have been developed for modelling patterns and dynamics of species occurrence that account for imperfect detection. Participants will be introduced to available software through worked examples, and there will be special emphasis on aspects of study design. The main software that will be used is Program PRESENCE, and some exercises in R.
Introduction to mark-recapture modelling
22 July - 26 July 2019
University of Newcastle, Newcastle
In this 4.5-day workshop participants will be introduced to statistical modelling approaches that can be applied to mark-recapture data through a combination of lectures on the underlying theory, and worked examples. Topics to be covered include:
Abundance estimation
Spatially-explicit capture-recapture
Survival estimation
Multi-state mark-recapture
Half-day discussion/consulting session
All examples will be conducted in the freeware R. Participants are expected to be comfortable in using R to perform basic tasks such as data input/output, data summaries, loading packages and simple plots, as this will be the main software used during exercises. This course may not be appropriate for people with no previous experience in using R.
---
Pre-conference workshop confirmed: Conservation Finance Intensive on Tuesday 8 October 
ALCA is thrilled to announce a pre-conference workshop to be held on Tuesday 8 October at the Adelaide Zoo: the Conservation Finance Intensive.
 
Building on the highly successful two-day Conservation Finance Intensive held in Melbourne in 2018 and the associated Conservation Finance Scoping Paper, this one-day workshop will be targeted specifically at land conservation professionals and aimed at building capacity to create better conservation finance deals. It will be a separately ticketed event to the conference itself, and hosted by Trust for Nature (Victoria) on behalf of ALCA.
 
International conservation finance expert Carl Palmer will be a key presenter at the workshop. A member of the steering committee of the US Conservation Finance Network, Carl has a rich history in impact investing to generate financial returns, conservation results and community benefits. He co-founded impact investment firm Beartooth Capital which provides capital and advice to ranch owners in the American West, and now consults through his organisation LegacyWorks to help communities, agencies, nonprofits, and funders achieve their goals.
 
Stay tuned to PLC19 updates for more details and bookings.
 
---
Te Papa (Wellington) 20-23 October, 2019
This conference will explore the role of Botanic Gardens in science communication & story-telling, plant conservation, managing collections and displaying plants. Join us – or submit an abstract to contribute your ideas. There are keynote speakers on biosecurity, climate change, plant blindness, cultural use and more. Key note speakers include Dr Kath Dickinson (Otago University) and Dr Cate Macinnis-Ng (Auckland University). Botanic Gardens Australia and New Zealand (BGANZ) is the peak body representing all botanic gardens in Australia and New Zealand. BGANZ promotes the interests and activities of all Australian and New Zealand botanic gardens through its 140 member gardens, enhancing the state of botanic gardens internationally.
---
Save the date: 11th INTECOL International Wetlands Conference, Christchurch, 2020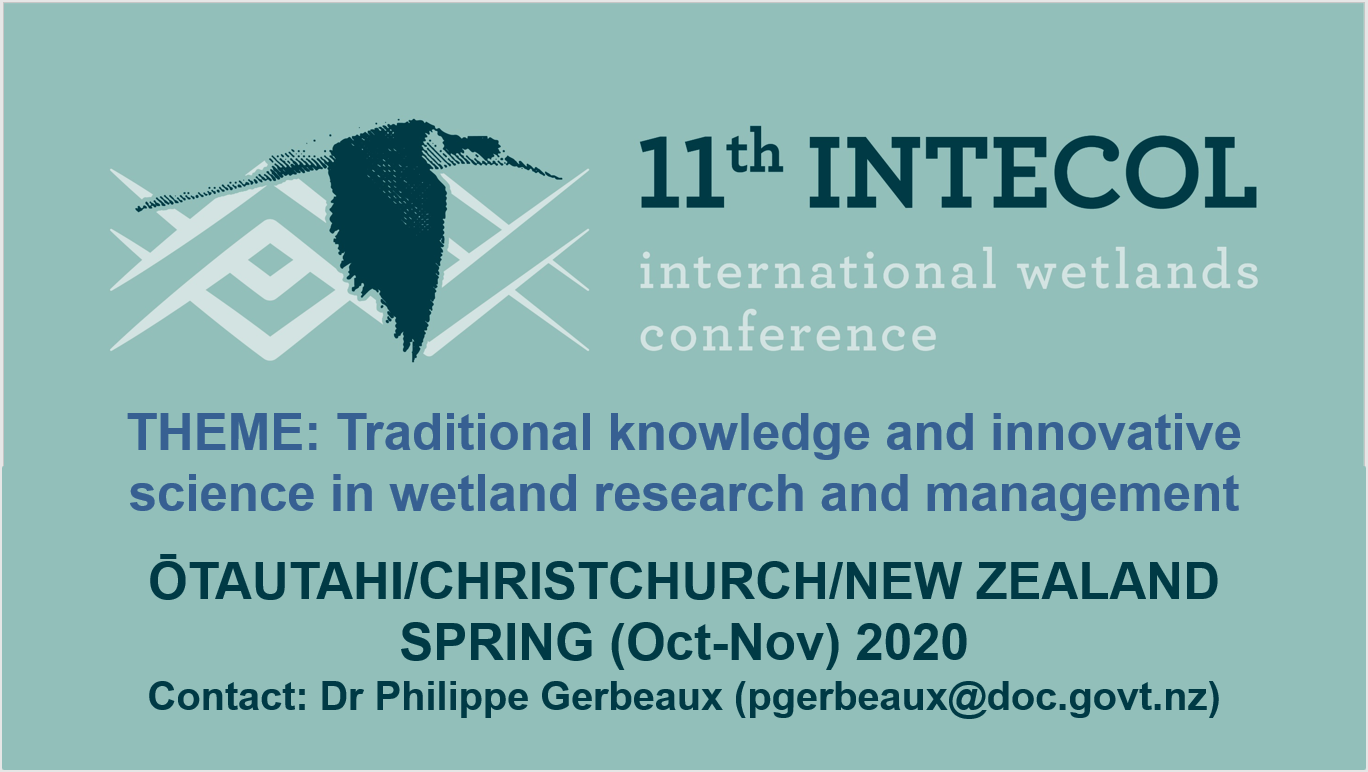 ---