Wellington, 26 - 27 February 2020
Freshwater policy & planning: There are new measures to protect New Zealand's irrigation water, drinking water, stormwater and wastewater. Come hear leading freshwater experts give their responses to the latest National Policy Statement for Freshwater. How the Action Plan for Healthy Waterways is being implemented and its economic impact.
NZES Members are entitled to a discounted rate to the National Freshwater 2020 Conference to be held in Wellington on 26 & 27 February. To qualify, enter the promotional code MWCOSC [valid until 9
December, 2019] while booking online at www.conferenz.co.nz/freshwater
---
Dunedin, 15 - 17 April 2020
The 69th Entomological Society of New Zealand Conference will be held in the beautiful city of Dunedin, in the takiwā of Ngāi Tahu, from 15th – 17th April, 2020. The conference venue is at the venerable but also innovative Otago Museum, approximately 30 mins travel from Dunedin airport, or 4.5 hours from Christchurch by car or public transportation.
EntoSoc is one of the best scientific meetings for experiencing interactive presentations in a congenial atmosphere where students, professors, and researchers discuss ecology, genetics, biosecurity, behaviour, morphology and more in the entomological sciences. EntoSoc 2020 brings together researchers from universities, industry and government with common interests in insects to help solve all sorts of ecological problems, and, well, just for the fun of it. Various thematic sessions within entomology are encouraged, including:
Entomology from individuals to communities
New models and conceptual approaches using insects
Insects in biodiversity research
Ecophysiology and behaviour
EntoSoc features non-parallel sessions to ensure cross-disciplinary exposure and learning opportunities, along with poster sessions, conference field trips and tours, and great social activities, including local food and beer.
Included in registration for this year's conference is: lunch (each day), morning and afternoon teas, nibbles + cash bar (poster session/welcome reception) and banquet dinner. 
---
International Statistical Ecology Conference 2020
22 - 26 June 2020
Sydney
You are now invited to submit an abstract for a presentation or poster at the International Statistical Ecology Conference (ISEC2020), to be held on June 22-26, 2020 in Sydney Australia.  Abstracts are due by December 2, 2019. Bursaries are available to presenters from developing countries.
For details go to the conference website (just Google ISEC2020).
We have an exciting and diverse scientific program planned at the interface between statistics and ecology, with plenary talks by Christl Donnelly (Imperial College, London), David Borchers (St Andrews), Di  Cook (Monash), Kiona Ogle (Northern Arizona) and Mark Bravington (CSIRO), and invited sessions on reproducible science and methods for high throughput community data.
The most excellent ISEC2020 training program includes a one-day Skills Showcase on June 22, with 90-minute introductory tutorials on spatial capture-recapture, multivariate analysis, hidden Markov models, disease modelling, data visualisation and more.  Pre-conference short courses:
A statistical view of  deep learning in ecology.  Jennifer Hoeting (University of Colorado)
Level-up your R package.  Nick Golding and Saras Windecker (University of Melbourne)
Spatial modelling and visualization of species distribution and disease risk using R and INLA.  Paula Moraga (University of Bath)
Multivariate modelling and joint species distribution models in ecology. Scott Foster (CSIRO), Otso Ovaskainen (University of Helsinki), Gordana Popovic and David Warton (UNSW Sydney)
With great power comes great responsibility: Stan for modern ecological modelling.  Daniel Simpson (University of Toronto) and Andrew MacDonald (Université de Montréal)
---
International Society for Behavioral Ecology Congress 2020 (ISBE 2020)
27 September – 2 October 2020
Melbourne Convention and Exhibition Centre
Melbourne, VIC, Australia
The International Society for Behavioral Ecology is pleased to announce that the 18th International Behavioral Ecology Congress will be hosted in Melbourne, Australia from Sunday 27 September to Friday 2 October 2020.
ISBE congresses are held every two years and attract a lively mix of behavioral ecologists at all career stages from around the globe.
There is an exciting program, which includes top-notch plenaries, as well as oral and poster sessions presenting the latest research.  Blind reviewing of abstracts, ISBE travel support for students and participants from developing nations, and free onsite child care ensure the widest participation.  And as a break from the science there are mid-congress excursions and a well established football tournament – the hottest fixture in international football!
The Organising Committee invites you to join us in Melbourne in 2020.  To stay abreast of the latest updates and news regarding the Congress, please register your interest here.
We look forward to seeing you in Melbourne.
Key Dates:
Call for Abstracts Opens: Wednesday 2 October 2019
Call for Abstracts Closes: Monday 2 March 2020
Registration Opens: Monday 3 February 2020
Early Bird Registration Deadline: Tuesday 26 May 2020
---
Save the date: 11th INTECOL International Wetlands Conference, Christchurch, 2020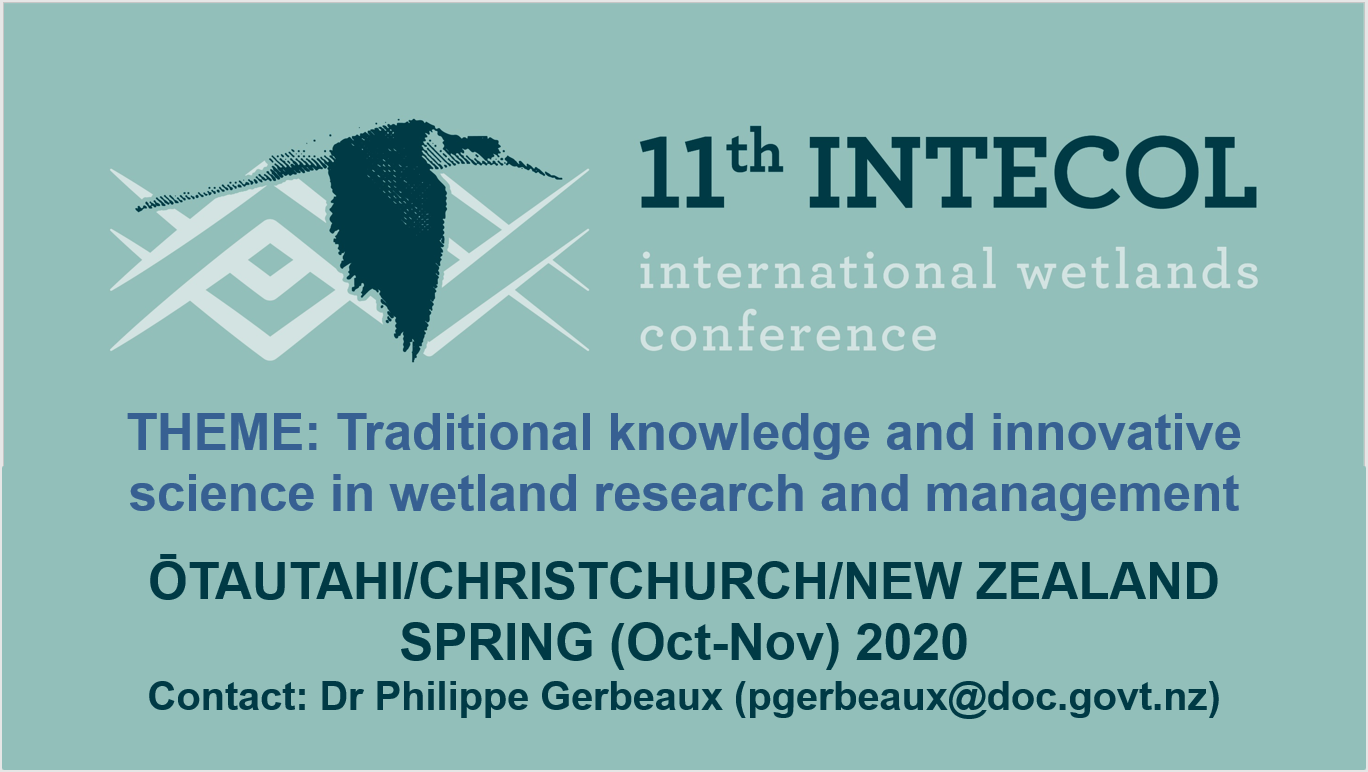 ---
Dublin, Ireland 1-3 November, 2021
Céad míle fáilte! A hundred thousand welcomes to Dublin and Ireland! The Local Organising Committee, the International Scientific Program Committee and the Co-Chairs of the conference, Professor Diana H. Wall and Professor Tom Bolger, are delighted to present the 3rd Global Soil Biodiversity Conference. We look forward to meeting you and discussing the latest scientific advances in soil biodiversity. The conference programme will provide a diverse range of opportunities to learn, share and network; including plenary lectures, keynote talks, concurrent sessions of specialised research talks, poster sessions, technical workshops, and cultural social events.
---