Te Papa (Wellington) 20-23 October, 2019
This conference will explore the role of Botanic Gardens in science communication & story-telling, plant conservation, managing collections and displaying plants. Join us – or submit an abstract to contribute your ideas. There are keynote speakers on biosecurity, climate change, plant blindness, cultural use and more. Key note speakers include Dr Kath Dickinson (Otago University) and Dr Cate Macinnis-Ng (Auckland University). Botanic Gardens Australia and New Zealand (BGANZ) is the peak body representing all botanic gardens in Australia and New Zealand. BGANZ promotes the interests and activities of all Australian and New Zealand botanic gardens through its 140 member gardens, enhancing the state of botanic gardens internationally.
---
International Statistical Ecology Conference 2020
22 - 26 June 2020
Sydney
You are now invited to submit an abstract for a presentation or poster at the International Statistical Ecology Conference (ISEC2020), to be held on June 22-26, 2020 in Sydney Australia.  Abstracts are due by December 2, 2019. Bursaries are available to presenters from developing countries.
For details go to the conference website (just Google ISEC2020).
We have an exciting and diverse scientific program planned at the interface between statistics and ecology, with plenary talks by Christl Donnelly (Imperial College, London), David Borchers (St Andrews), Di  Cook (Monash), Kiona Ogle (Northern Arizona) and Mark Bravington (CSIRO), and invited sessions on reproducible science and methods for high throughput community data.
The most excellent ISEC2020 training program includes a one-day Skills Showcase on June 22, with 90-minute introductory tutorials on spatial capture-recapture, multivariate analysis, hidden Markov models, disease modelling, data visualisation and more.  Pre-conference short courses:
A statistical view of  deep learning in ecology.  Jennifer Hoeting (University of Colorado)
Level-up your R package.  Nick Golding and Saras Windecker (University of Melbourne)
Spatial modelling and visualization of species distribution and disease risk using R and INLA.  Paula Moraga (University of Bath)
Multivariate modelling and joint species distribution models in ecology. Scott Foster (CSIRO), Otso Ovaskainen (University of Helsinki), Gordana Popovic and David Warton (UNSW Sydney)
With great power comes great responsibility: Stan for modern ecological modelling.  Daniel Simpson (University of Toronto) and Andrew MacDonald (Université de Montréal)
---
International Society for Behavioral Ecology Congress 2020 (ISBE 2020)
27 September – 2 October 2020
Melbourne Convention and Exhibition Centre
Melbourne, VIC, Australia
The International Society for Behavioral Ecology is pleased to announce that the 18th International Behavioral Ecology Congress will be hosted in Melbourne, Australia from Sunday 27 September to Friday 2 October 2020.
ISBE congresses are held every two years and attract a lively mix of behavioral ecologists at all career stages from around the globe.
There is an exciting program, which includes top-notch plenaries, as well as oral and poster sessions presenting the latest research.  Blind reviewing of abstracts, ISBE travel support for students and participants from developing nations, and free onsite child care ensure the widest participation.  And as a break from the science there are mid-congress excursions and a well established football tournament – the hottest fixture in international football!
The Organising Committee invites you to join us in Melbourne in 2020.  To stay abreast of the latest updates and news regarding the Congress, please register your interest here.
We look forward to seeing you in Melbourne.
Key Dates:
Call for Abstracts Opens: Wednesday 2 October 2019
Call for Abstracts Closes: Monday 2 March 2020
Registration Opens: Monday 3 February 2020
Early Bird Registration Deadline: Tuesday 26 May 2020
---
Save the date: 11th INTECOL International Wetlands Conference, Christchurch, 2020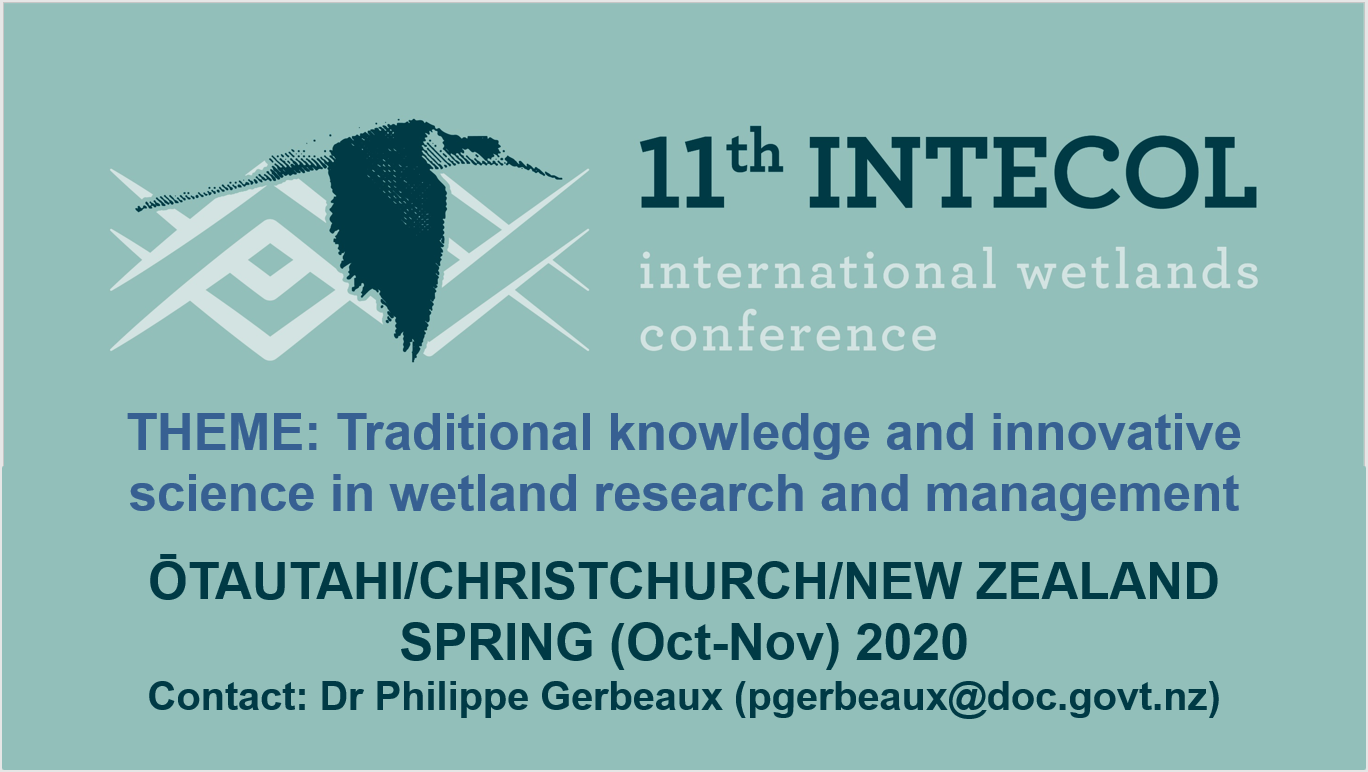 ---