Published online: September 2022
Synthesis by: Brett Gartrell, Wildbase, Tāwharau Ora, School of Veterinary Science, Massey University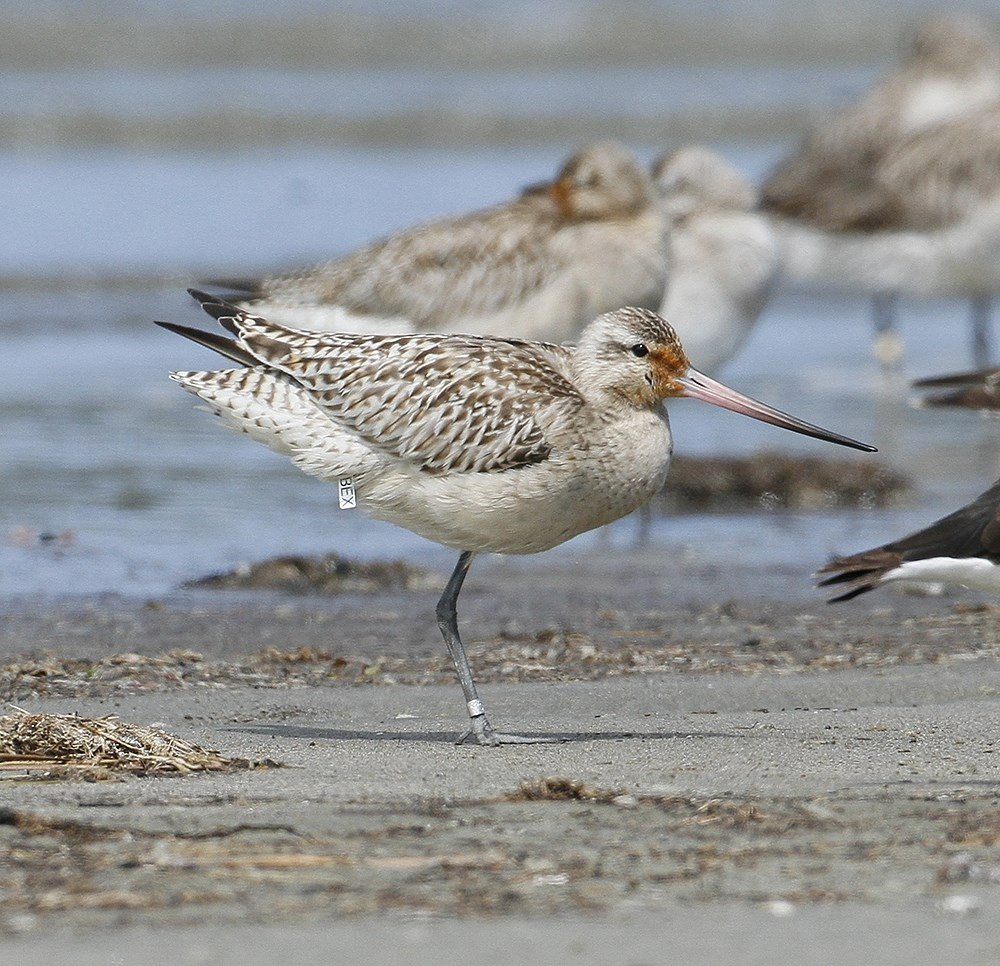 Eastern bar-tailed godwit or kuaka (Limosa lapponica baueri) are a migratory species that breed in the Arctic and overwinter in Australia and Aotearoa New Zealand, representing a potential risk of introducing avian influenza but also a species that could be severely affected by an outbreak anywhere in its migratory pathways. Photo: Phil Battley.
In the last year (2021-2022) there has been an unprecedented mortality of wild birds throughout the Northern Hemisphere due to avian influenza virus. During this period, over 400,000 dead birds have been recorded from over 2600 separate mortality clusters in wild bird populations, however, the actual number of birds affected is estimated to be much higher. Deaths due to this strain of the virus have been reported from almost every country in Europe and have also been found in wild birds in North America and Northern Africa. Many bird species are affected, including cranes, eagles, owls, pelicans and a variety of other seabirds and shorebirds. The virus responsible is a strain of Avian Influenza A(H5N1) that has been circulating in Asia since 2014.
Avian influenza viruses are a complex group of viruses that are of importance to bird and human health. Most strains cause little or no disease in wild birds or people but are of major economic importance to the poultry industry worldwide. In poultry, these viruses cause direct mortality via infection, or when flocks of birds are culled to try to contain the disease. Viruses evolve rapidly and this current strain of avian influenza is particularly concerning because it has high transmissibility, can infect hosts across species barriers, and is much more likely to cause severe disease and death in some wild bird species.  For example, clusters of mortality are being seen in seabirds, birds of prey and scavengers.
Although low pathogenic strains of avian influenza are already present in New Zealand's wild waterfowl populations, if the H5N1 strain enters Aotearoa New Zealand the consequences for wild bird populations and poultry flocks will be severe. The Ministry for Primary Industries (MPI) has primary responsibility for exotic disease surveillance, investigation of unusual mortality clusters and the control of exotic disease incursions in animals and plants in Aotearoa New Zealand. MPI has a long-standing annual avian influenza targeted surveillance programme where wild birds, particularly ducks, are sampled at key field sites and samples are then screened back at their animal health laboratory for avian influenza viruses. Bird mortality events are also routinely reported and investigated by MPI's incursion investigators where screening for avian influenza viruses is routine.  However, for wildlife mortality, this surveillance relies on early reporting from people working in the field. If you identify an unusual number of mortalities in wildlife, then you should ring the exotic disease hotline for advice (Exotic Pest and Disease Hotline - 0800 80 99 66).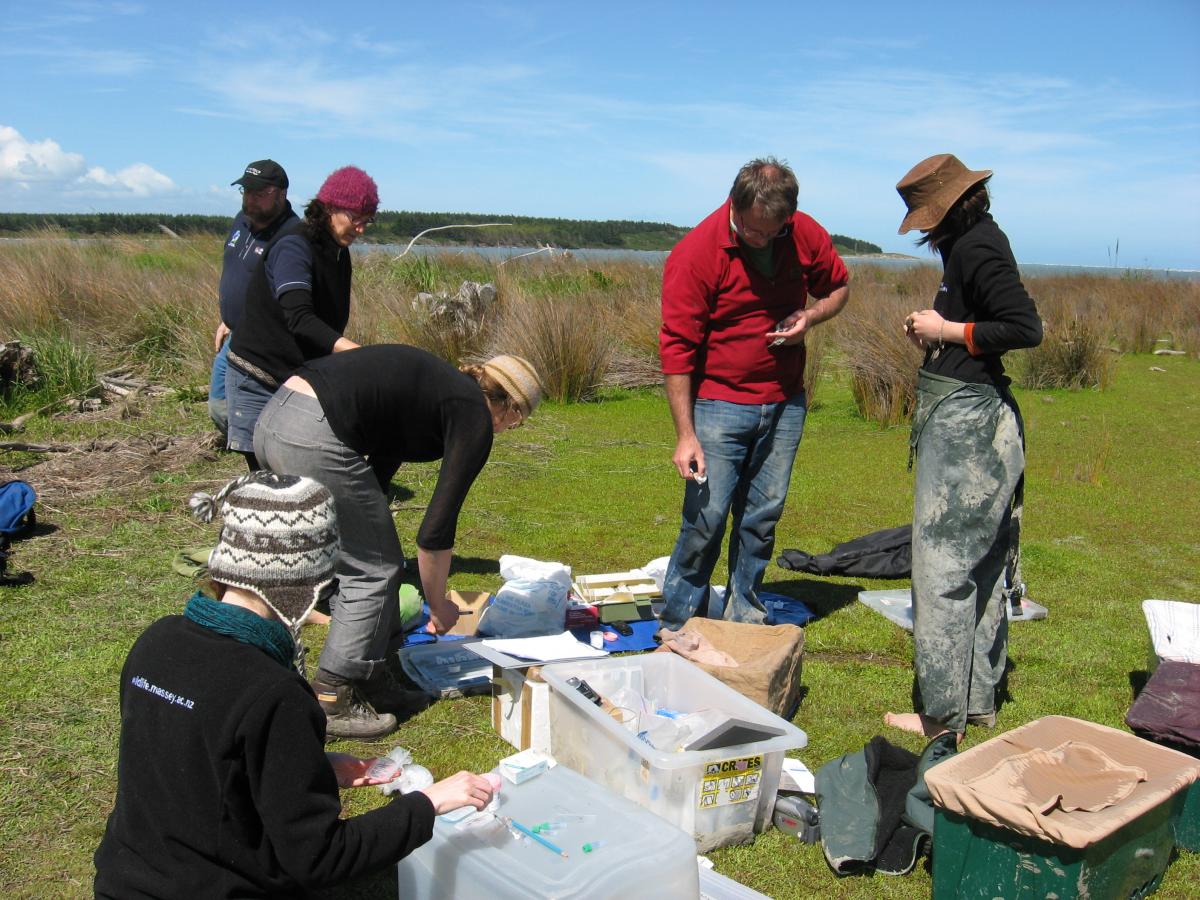 There is an opportunity for surveillance programmes to piggyback on existing ornithological field research. Here, the Wildbase team are sampling godwits/kuaka (Limosa lapponica baueri) and lesser knots/huahou (Calidris canutus) at Foxton Estuary for disease screening in conjunction with a banding study carried out by Associate Professor Phil Battley and the Wader Study Group of Birds New Zealand. Photo: Brett Gartrell.
Difficulty can come in knowing when the number of dead birds found is unusual as there is always mortality in any wildlife population. Ecologists and ornithologists have extensive baseline data on wildlife populations and are well placed to recognise any spikes in mortality. MPI collaborate with the Department of Conservation (DOC) in wildlife investigations and veterinary pathology laboratories may be asked to be involved depending on where the mortality occurs. In conjunction with MPI's surveillance programmes, passive surveillance of wildlife mortality is also co-ordinated by the DOC who contract Massey University's Wildbase Pathology service to undertake post-mortem investigation of the deaths of threatened native wildlife.
The geographic isolation and strict biosecurity laws are barriers to this disease entering Aotearoa New Zealand. Although, our biosecurity laws currently prevent the importation of live birds, smuggling does occur, and thus represents a potential route for entry. Migratory shorebirds and seabirds are also possible vectors of the virus into the country. One theory holds that infected shorebirds might be too ill to make the migration journey, but avian influenza has a mean 14-day incubation period, meaning it can take around 2 weeks from the bird getting infected to show the disease. Many of our migratory species potentially could complete their migration in this period, so geography may only provide a certain amount of protection. If the disease enters the country, it will move around the country in wild birds and traded poultry unless it is quickly eradicated. In a recent outbreak of a pathogenic avian influenza H7N7 strain in Australia, control and eradication were achieved by culling over 433,000 birds, including poultry, turkey, farmed emus, and pet birds. MPI would adopt a similar eradication strategy to prevent the virus from becoming established in New Zealand, however, it is not clear how this control strategy would be applied to wildlife populations. Whilst MPI would be the lead organisation in any incursion response, support of other government agencies, universities, wildlife experts and the community would be crucial. Early detection, reporting, containment and biosecurity measures will be important in trying to stamp out the disease to prevent further spread.
Relevant literature:
Adlhoch C, Fusaro A, Gonzales JL, Kuiken T, Marangon S, Niqueux É, Staubach C, Terregino C, Aznar I, Muñoz Guajardo I, et al. (2022) Avian influenza overview December 2021 – March 2022. EFSA Journal 20. https://doi.org/10.2903/j.efsa.2022.7289
Bevins SN, Shriner SA, Cumbee JC, Jr., Dilione KE, Douglass KE, Ellis JW, Killian ML, Torchetti MK, Lenoch JB (2022) Intercontinental Movement of Highly Pathogenic Avian Influenza A(H5N1) Clade 2.3.4.4 Virus to the United States, 2021. Emerging Infectious Diseases 28, 1006-11. https://doi.org/10.3201/eid2805.220318
Blagodatski A, Trutneva K, Glazova O, Mityaeva O, Shevkova L, Kegeles E, Onyanov N, Fede K, Maznina A, Khavina E, et al. (2021) Avian influenza in wild birds and poultry: Dissemination pathways, monitoring methods, and virus ecology. Pathogens 10. https://doi.org/10.3390/pathogens10050630
Chen W, Zhang X, Zhao W, Yang L, Wang Z, Bi H (2022) Environmental factors and spatiotemporal distribution characteristics of the global outbreaks of the highly pathogenic avian influenza H5N1. Environmental Science and Pollution Research 29, 44175-85. https://doi.org/10.1007/s11356-022-19016-1
Greening SS, Mulqueen K, Rawdon TG, French NP, Gates MC (2020) Estimating the level of disease risk and biosecurity on commercial poultry farms in New Zealand. New Zealand Veterinary Journal 68, 261-71.
Ramey AM, Hill NJ, DeLiberto TJ, Gibbs SEJ, Camille Hopkins M, Lang AS, Poulson RL, Prosser DJ, Sleeman JM, Stallknecht DE, et al. (2022) Highly pathogenic avian influenza is an emerging disease threat to wild birds in North America. Journal of Wildlife Management 86. https://doi.org/10.1002/jwmg.22171